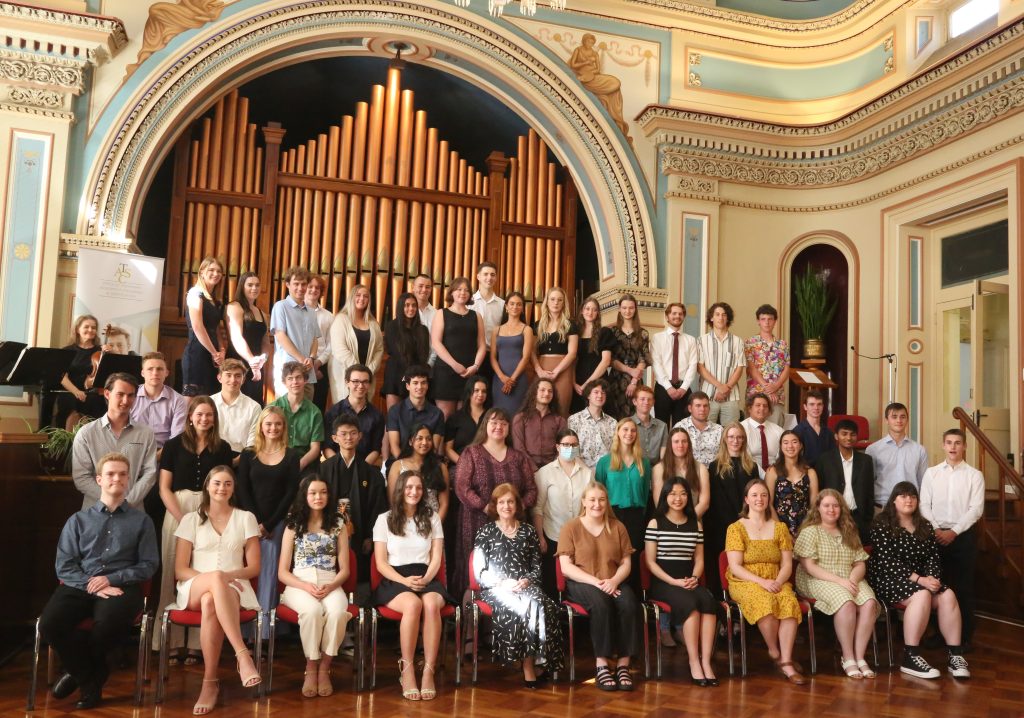 59 exceptional senior secondary students from across Tasmania were recognised with TASC Outstanding Achievement Awards at a ceremony at the Hobart Town Hall on Monday 30 January.
32 students received the TASC Outstanding Academic Achievement Award, recognising the students who attained Tasmania's highest academic results with an Australian Tertiary Admissions Rank (ATAR) of 99.5 or above.
27 students received the TASC Outstanding Achievement in VET Award, recognising students who demonstrated excellence in their VET programs, ranging from agriculture, creative industries, aquaculture, sport coaching and construction who successfully achieved the Tasmanian Certificate of Education (TCE).
2022 TASC Outstanding Achievement Award Recipients
Outstanding Achievement in VET Award
Student name
School
Talon Best
Marist Regional College
Hugh Clements
Hobart College
Dorian Clennett
Hobart College
Sarah Cornish
Elizabeth College
Edwin Coward
Hobart College
Chelsea Crellin
Hobart College
Callum Dobbie
Marist Regional College
Jacob Doohan
Scottsdale High School
Rubi Everard
Launceston College
Layla Ferguson
Hobart College
Jordan Gale
Ulverstone Secondary College
(Name withheld)
St Patrick's College
Matilda Harvey
Hobart College
Emily Hepburn
St Patrick's College
Piper Hoey
Ulverstone Secondary College
(Name withheld)
St Michael's Collegiate School
Lachlan Johnstone
Hobart College
Jessica Lloyd
St Michael's Collegiate School
Taylor Nash
Marist Regional College
Kezziah O'Toole
Hobart College
Lilly Reeman
Hellyer College
Bethany Reeves
St Michael's Collegiate School
Shania Saward
Marist Regional College
Alec Turale
Ulverstone Secondary College
Bryony Watts
Hobart College
Abby Wilson
St Mary's College
Chloe Woodhall
VLT / Deloraine High School
Outstanding Academic Achievement Award
Student name
School
Zachariah Bartlett
The Friends' School
Oscar Breslin
Guilford Young (Glenorchy)
Max Brideson
Guilford Young (Glenorchy)
Chi Canty
Scotch Oakburn College
Hugh Clarke
The Hutchins School
William Coulson
Launceston Church Grammar School
Liam Fassett
Launceston Church Grammar School
William Gaffney
Rosny College
Francesca Harkin
Hobart College
Isobel Heathcote
The Friends' School
Kasuni Indralal
Marist Regional College
Akihiro Katsuta
Hobart College
Thomas King
The Hutchins School
Alexander Kwa
The Friends' School
Jacob Lancaster
Hobart College
Adelle Massom
Hobart College
Jarroch Maywald
Hellyer College
Cassandra McLoughlin
Guilford Young (Glenorchy)
Naoise Michelin
Elizabeth College
Mackenna Minstrell
Hobart College
Olive Morris
St Patrick's College
Nirmit Ganesh Naik
Hobart College
Narryna Nicholas
Hobart College
Eugenie O'Rourke
Don College
Sienna Palser
St Michael's Collegiate School
Max Reardon
The Friends' School
Bailey Reardon
St Patrick's College
Lachlan Rogers
Hobart College
James Skinner
The Friends' School
Alexander Wood
Scotch Oakburn College
Grace Young
St Brendan-Shaw College
Raina Zhao
Marist Regional College