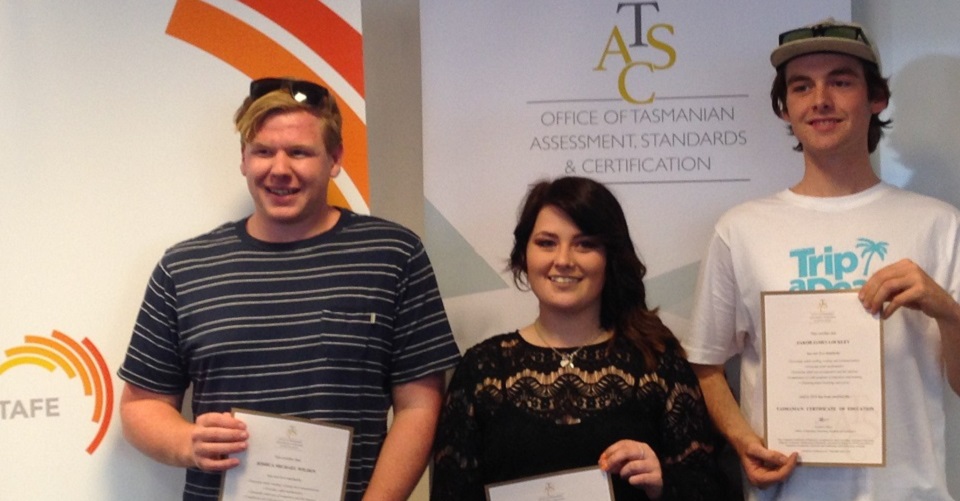 TASC Executive Officer, Katrina Beams and TasTAFE Chief Executive Officer, Jenny Dodd celebrated the achievements of TasTAFE students Ebony Smith, Jakob Lockley and Joshua Wilden who recently achieved their Tasmanian Certificate of Education.
Ebony, Jakob and Joshua are continuing their learning pathways through vocational education and training (VET) at TasTAFE after finishing school. A new initiative between TASC and TasTAFE offers students aged 15-19, who have successfully completed the 120 credit points required to achieve TCE, the opportunity to sit TCE everyday adult standard safety net tests they still needed to attain the TCE.
Ebony attended Claremont College and gained apprenticeship in hairdressing and now works full time and is nearing completion of her studies.
Jakob finished Year 12 at Rosny College and is now a 2nd Year Apprentice Refrigeration Mechanic.
After finishing Year 12 at Rosny College and working in the building industry, Joshua is now studying a Diploma of Aviation at Par Avion to achieve his goal of becoming a commercial pilot.
TASC and TasTAFE will continue to work together to ensure more eligible students undertaking VET studies can complete their TCE in the future.