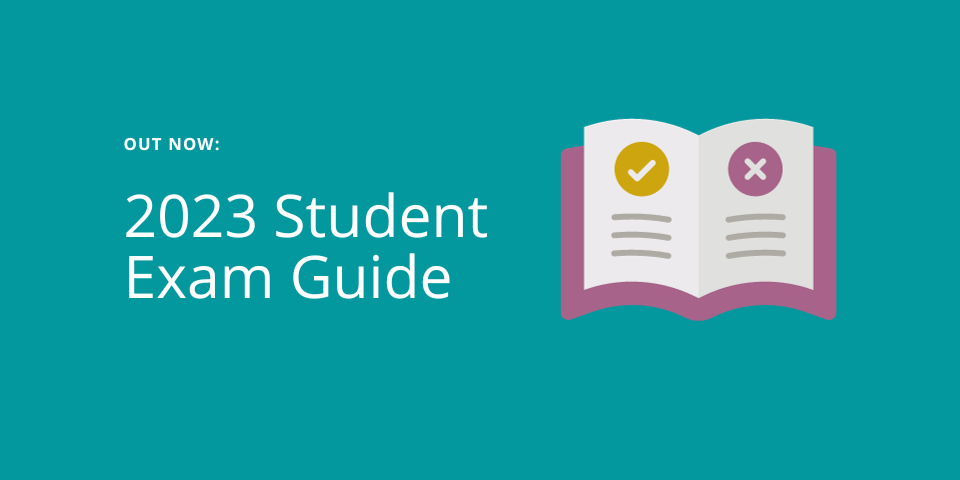 If you are sitting any external assessments this year, your school will receive a printed copy of the Student Exam Guide to give to you at the start of Term 4.
An electronic copy of the 2023 Student Exam Guide is also available. The Exam Guide covers the essential information you need to prepare for your end-of-year exams and assessments.
The guide outlines key dates for the external assessment process, the course deadlines for externally assessed folios and other project work and the exam timetables. There is also information about assessment rules, processes for medical certificates/emergencies, and receiving results and certificates.
The 2023 edition of the guide includes:
Information about the 2023 written exams, including the updated external assessment rules and academic integrity policy, all written exam papers being easier to read aligning with accessibility requirements, and the 15 minutes of 'preparation time' applying at the start of an exam.
Setting yourself up for success by knowing what to expect, having the personal supplies you need and using the Tips for staying CALM during exams so you stay in a positive headspace during an exam.
Processes around medical certificates returning to closer to pre-COVID practices, requiring a medical appointment (in-person or telehealth) to confirm illness of any type and the additional time to obtain an appointment reducing to two business days after the exam.
Re-emphasising that students who become sick during an exam and can't complete it must tell the Exam Supervisor that they are unwell and need to leave. The Supervisor must record the students name and time they leave for TASC to accept a medical certificate and provide derived results for an exam that a student did attend.
---
For more information, see Preparing for exams.