TRACS – supporting students to achieve
The Office of TASC is pleased to announce that TASC's new Reporting, Assessment and Certification System (TRACS) will be rolled out from April 2019.
TRACS is a complete student management system. TRACS streamlines communication with the Office of TASC and modernises tasks such as registering your school, providing your scope, tracking correspondence, as well as managing student assessment and certification information.
The TRACS system will ensure that the Office of TASC will continue to provide premium qualifications and support Tasmanian senior secondary students via a modern system built with best-practice technology.
All potential TRACS users will receive information about opportunities to participate in training sessions planned for early 2019. The Office will provide ongoing technical assistance and support for all schools and users of TRACS. More information and updates to schools will be available from January 2019.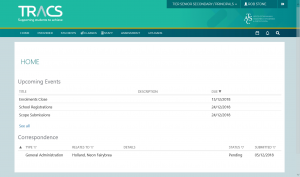 Sample of the TRACS home page